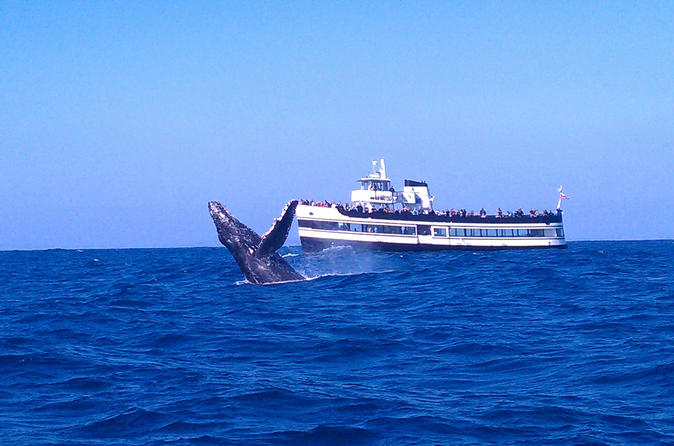 Take a whale watching adventure that will create thrilling memories your whole family will never forget.
The 3.5-hour excursion departs twice daily aboard a comfortable, two-story whale watching yacht.
Each year approximately 20,000 gray whales migrate from the Bering Sea to the lagoons of Baja California and back again. Come witness this amazing journey off the coast of San Diego on this educational whale watching excursion.
Highlights
Choice of a morning or afternoon whale watching adventure
Ideal choice for families
Informative, friendly and professional guide
See native wildlife in their natural environment
The whale watching yacht features 360-degree views from the main level and upper sundeck, an onboard snack bar, multiple restrooms and free guest WiFi.
The tours are guided by friendly marine experts from Birch Aquarium at Scripps. You'll get a deeper understanding of the ocean ecosystem and real-time commentary on the sights and sea creatures unique to your cruise. You'll also receive coupons to Birch Aquarium.
We suggest dressing in layers. The temperature and winds can be unpredictable even if it's sunny out. Bring with you:
warm clothing
binoculars
camera
sunscreen
hat
medication - If you may be prone to seasickness, plan ahead. Medication only works when taken BEFORE boarding the vessel. Wristbands for motion sickness also can be effective. Either can be purchased at any drug store.
Things to know:
Chances of spotting a whale are exactly the same, whether you choose the morning or afternoon departure. Whales don't wear watches.
Same goes for the days of the week. Each day has an equal chance of sightings. Whales do not have calendars.
In the unlikely event that your departure is cancelled due to poor weather conditions, the tour company will do its best to contact you in the morning at the phone number you provide. They will reschedule your tour for another day if you like or provide you with a full refund - your choice.