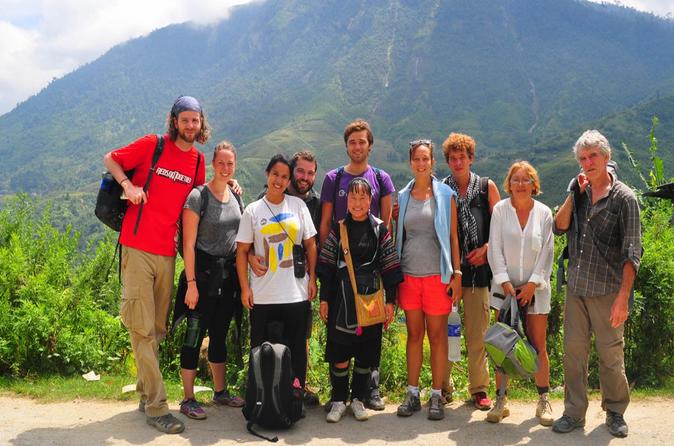 Enjoy this easy trekking tour of Vietnam as you visit Sapa after taking the night train from Hanoi for an unforgettable Vietnamese Sapa Overseas Travel Adventure Inside Vietnam.
With this tour, tourists will have the opportunity to visit 6 villages (Cat Cat, Y Linh Ho, Lao Chai, Ta Van, Giang Ta Chai, Su Pan) of 3 different minorities (Black H'Mong, Dzay, Red Dao). This overseas adventure travel inside Vietnam can be operated either as a joining group tour to save money or private tour for more privacy.
Night 1: Hanoi - Lao Cai
The tour guide will pick up at your hotel (20.30) for the transfer to Hanoi Railway Station to take the night train from to Lao Cai for the start of your Vietnamese Sapa adventure. You will sleep on the train.
Day 1: Sapa - Y Linh Ho - Lao Chai - Ta Van (B, L, D)
05.00 - 05.30AM: Guests arrive in Lao Cai early in the morning. From there they are transferred to Sapa by shuttle bus. You will have a chance to refresh and enjoy breakfast at the hotel.
09.30AM: The trek starts with 6 km of walking down to the south east of Sapa along the side of Muong Hoa valley to Y Linh Ho village of the Black H'mong. Guests continue a 2km-trek down to Lao Chai village, through terraced rice fields to Ta Van village of the Dzay minority people.
Here you share lunch with a local family. Not only does this gives you a chance to learn about the local house architecture, you also learn more about what they do everyday in daily lifestyles and exclusive customs.
Then you can take pictures or enjoy the landscapes on the way as you take the final trek of the day of about 2 km to the bus stop in Ta Van. From here you return to Sapa by jeep or motorbike and overnight at the hotel in Sapa.
Trekking level: 6/10
10km trekking, 8km driving from Tavan village back to Sapa
Your Overseas Adventure Travel Inside Vietnam Continues
Day 2: Cat Cat - Sin Chai - Sapa (B, L, D)
On the second day of your overseas adventure travel inside Vietnam, you will walk down to the southwest of Sapa (around 4 km) to visit Cat Cat village of the Black H'mong. Here you will enjoy a rest stop with food at a stunning waterfall. You will also see the vestige of a hydroelectric power station that was constructed by the French during the colonial time in Vietnam.
You will enjoy picnic lunch by the side of the river, and then trek roughly 3 km to Sin Chai, the village located at the foot of Fansipan Mountain, "the roof of Vietnam and Indochina". From here you can enjoy huge stunning landscapes before climbing up on the way a jeep to return to Sapa. You will overnight again in a hotel in Sapa,
Trekking level: 4/10
7km trekking, 3km driving from Cat Cat village back to Sapa
Day 3: Sapa - Suoi Thau - Ma Tra - Ta Phin- Sapa - Lao Cai (B, L, D)
In the morning, you will travel 5 km by jeep to visit the Red Dzao in the Suoi Thau and Ma Tra villages. From there you will trek 9 km through the local villages, and the rice and corn field.
There is a picnic lunch enroute to Ta Phin village, where we have chance to learn about the lifestyles and the custom of the Red Dzao minority.
Again you can take pictures, enjoy landscape, and visit with the locals during your final day on this overseas adventure travel inside Vietnam. Then you will  drive back to Sapa. A shuttle bus will take to the train station, where you will have dinner. Afterwards, you will board the night train back to Hanoi.
Trekking level: 5/10
9km of trekking, 20km of driving.