Take a glamping safari into Botswana's first national park.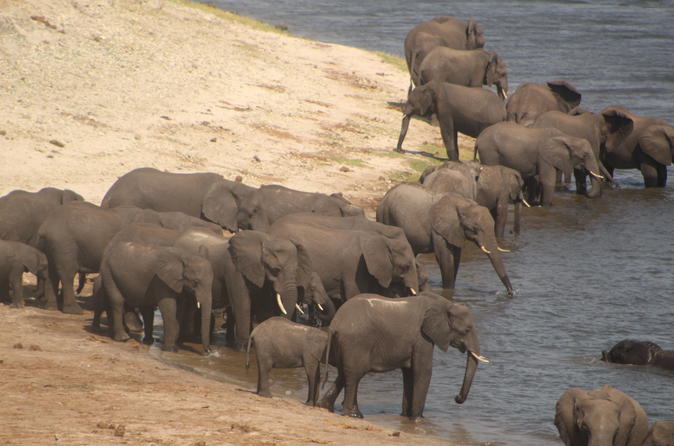 This adventure on the Chobe River takes you near Victoria Falls. Arguably this is one of the most spectacular waterfalls in the world. Victoria Falls is a UNESCO World Heritage Site. It was named by Scottish missionary and Africa explorer David Livingstone for Queen Victoria.
Chobe National Park is Botswana's first national park, and also the most biologically diverse. Located in the north of the country, it is part of the Chobe riverfront. The campsite is situated in the extreme northeast of the park.
Day 1:
We begin our day exploring the Chobe River through Chobe National Park. We will drive to the river after meeting guests at the airport or one of the borders (Kasane International Airport/Zambia or Zimbabwe border). The drive will be about 25 kms to our campsite going through the Chobe National Park.
Throughout the Chobe riverfront there are lush flood plains and dense woodland of mahogany, teak and other hardwoods now largely reduced by heavy elephant pressure. The Chobe River which flows along the Northeast border of the park, is a major watering spot, especially in the dry season (May through October) for large breeding herds of elephants, as well as families of giraffe, sable and cape buffalo.
The Chobe National Park flood plains are the only place in Botswana where the puku antelope can be seen.
Birding is also excellent here and large numbers of carmine bee eaters are spotted in the flood season. During the flood, various species of stork, duck and other waterfowl flock to the area.
This is likely Chobe's most visited section, in large part because of its proximity to the Victoria Falls. The town of Kasane, situated just downstream, is the most important town of the region and serves as the northern entrance to the park.
Day 2: 
Along the Chobe river front, we will do a morning game drive after breakfast and return to campsite around 11:00 am. Then we depart from campsite at 12:30 for a three-hour boat cruise in town which will end around 5 pm so that we have enough time to drive back to the campsite.
Day 3:
This morning we will take a game drive to see Botswana's plentiful herds of animals, before heading down to town around lunch time for a boat cruise with lunch on board. Later, we drive back to the campsite and will see more animals on an afternoon game drive.
Day 4:
We end our day of luxurious camping and return to the drop off point (Kasane International Airport/Zambia or Zimbabwe border).
This adventure includes many luxury extras, including:
Spacious and comfortable tented accommodation including beds & bed linen, with a private ensuite bathroom & shower
Services of well experienced professional guide
Game drives & boat cruises, canoeing (mokoro), transfers in 6-seater vehicles
Exclusive private campsites within game reserves, national parks & private concessions.
Camping & entrance fees
All meals & drinks (mineral water/Sparkling water, soft drinks, beer, wines (red & white), gin & tonic.
All activities as specified in our itineraries.
12 % value added tax