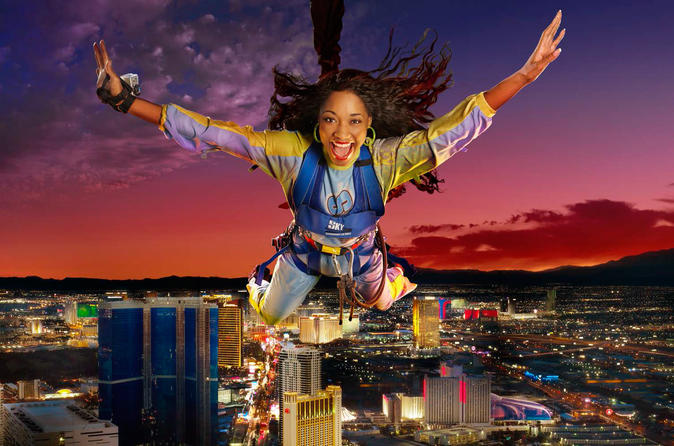 SkyJump Stratosphere in Las Vegas is a heart-pounding, scream-inducing, open-air leap from 829 feet above the neon lights of the Las Vegas Strip. You'll zoom toward the landing pad at speeds topping 40 mph, while the crowds below gasp and applaud your bravado. Do you have the nerve to take that step off the platform?
SkyJump Stratosphere is the world's highest commercial decelerator descent according to Guinness World Records.
So how do you jump off a perfectly good building? Head to the north Strip and the Stratosphere Hotel, Casino, and Tower in Las Vegas for your experience. SkyJump Stratosphere is one of the most adrenaline-charged attractions in Sin City.
Adventurers arrive at the SkyJump Stratosphere store in the retail mall where they can still back out. Those brave enough to take on the SkyJump receive a safety briefing and jumpsuit before heading 108 stories up the Stratosphere Tower.
By this point, your heart will be racing as the jump gets closer. Do you dare to look the 800-plus feet down to the Strip below? Once you're strapped in, get ready for the ultimate adrenaline rush as you leap into the air and descend up to 40 mph to the ground below. If you can keep your eyes open long enough, you will have amazing views of the Las Vegas Valley and Strip.
The view is spectacular and the experience packs enough adrenaline to keep you up all night. You will definitely want to talk about this adventure when you return because this is one of those memories you will want to share with your friends.
Any friends and family can wait for you at the bottom or purchase tickets to the observation deck to watch your jump from the 108th level.
Upgrade packages are available to purchase upon check-in at SkyJump Stratosphere, such as photos and wrist-cam footage (own expense).