This is a new tour and the very first electric bike tour in NYC!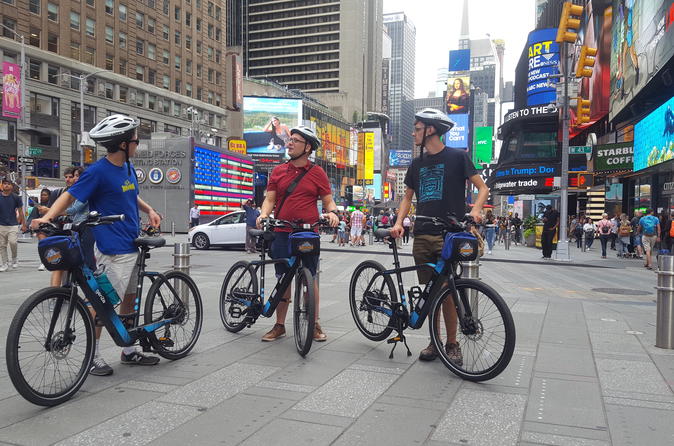 You won't believe the experience from the streets as you tour Central Park to Midtown to the Hudson Greenway.
This electric bike
tour
allows you to explore Classic Manhattan on a pedal-assist eBike. Believe me, you will not  stop grinning ear-to-ear from the exhilaration of this pedal assist bike tour.
Once the tour operator makes sure you are comfortable on your electric bike, they will take you on a ride to Central Park where you can explore a couple of the most iconic sites.
Next, you'll zoom down 7th Ave to Rockefeller Center and St. Patrick's Cathedral before stopping at Grand Central Terminal and Times Square, where you can literally feel the energy of Broadway.
This is a great way to experience the noise and bustle of New York City!
You won't soon forget the ride up along the Hudson Greenway back to the bike shop in the Upper West Side. During this 3.5 to 4 hour tour, you'll make multiple stops where your guide will provide some history, unique facts, and tips for the rest of your time in the Big Apple.
Each tour route is carefully designed to keep safety in mind. Your guide knows that the hustle and bustle of Manhattan can be a bit overwhelming. The guides are trained to make sure you feel safe and happy as you ride through the city.
They'll even provide water to everyone so you can stay hydrated during your tour.