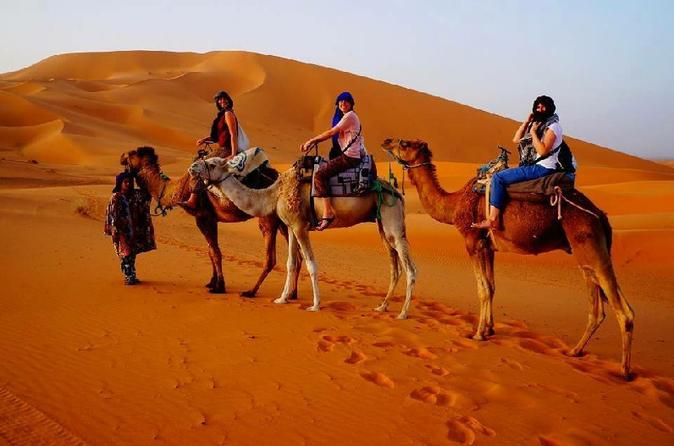 Moroccan Overnight Stay in the Sahara Desert in a Berber Tent to experience the simple life of the Saharan nomadic families.
And a bonus: you will have the opportunity to see the sunset and sunrise on a camel.
You will arrive to the starting point at a traditional Kasbah on the foot of the dunes of
Erg Chebbi, one of Morocco's several ergs – large seas of dunes formed by wind-blown sand. A Kasbah is typically a town or fortress for a group of people living in the Sahara.
After a short rest featuring Morocco's famous mint tea, your guide and camels will be waiting to carry you across the sandy dunes of the erg. Your camels will climb the sand dune and give you the view of the vast Sahara desert. This is something you will want to experience!
You will enjoy the beauty of the sunset on camel, and after one hour you will reach the desert camp to spend night in a Berber tent, a traditional Nomadic tent outfitted for luxury.
At your desert shelter, your camels will be hobbled for the night as you enjoy another round of mint tea. After a wonderful dinner, you will enjoy the crisp desert air, watch the stars over the desert, and spend the night in luxury.
After your Moroccan overnight stay, in the morning you can wake up to see the sunrise just behind the Algerian border. This is truly a breathtaking experience.
You will experience life as a nomad for a small amount of time and give you something to talk about at your next gathering.
Your tour ends back at your hotel in Rissani or Merzouga. For there you can plan other activities like sand boarding, 4x4 or Quad excursions into the desert, or just enjoy the marketplace.