Try reindeer sledding, the oldest means of transportation in Finland, see the Northern Lights, and enjoy the simple pleasures of the Sami culture.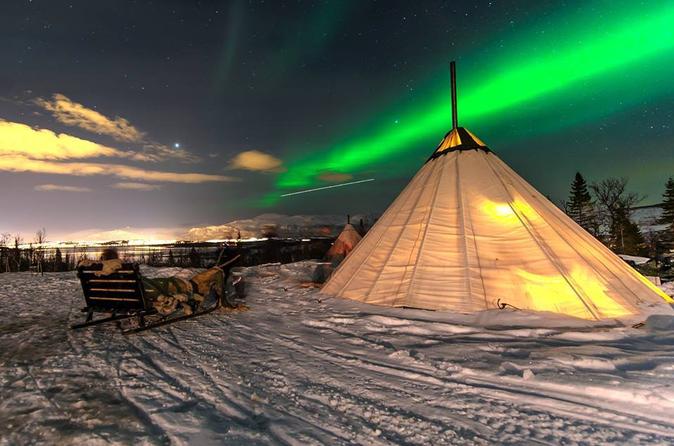 The location for watching the beautiful Northern Lights has little artificial light and excellent conditions to look for the Aurora. Instead of heading back to the city centre where you might miss a late night dance from the Northern Lights, stay on in this good location in a traditional Sami Lavvu, sleeping on reindeer skins in winter-insulated sleeping bags.
After you meet at Radisson Blu Hotel in Tromsø, you will then be transferred to where the activities begin in earnest.
The tour starts with the reindeer sledding through the crisp Finland countryside. After the sledding there will be time for socializing with the reindeers, where you will be able to feed them, and they will eat from your hand. After the outdoor activities, we will go inside the Lavvu where an evening-meal will be served. You will get a traditional Sami stew usually served at Sami weddings, and other special occasions. You will also be served hot drink (coffee, tea, or hot chocolate). Then one of our Sami guides will tell you a little bit about the Sami culture, with the reindeer herding lifestyle and history in focus.
The Sami have historically been known in the English language as Lapps or Laplanders, but these terms can be perceived as derogatory. The Sami are best known for semi-nomadic reindeer herding.
When the guide is done presenting the Sami culture, you`re free to go into your Lavvu and relax or you can stay up and have a conversation with the guide. The other option is to simply wander outdoors, enjoy the peace, and watch the Aurora.
After the tour you will be transferred back to the meeting point at Radisson Blu Hotel in Tromsø around 11:00 am the next day (17 hours).
Included:
Warm clothes
sleeping-bag
guide
hot meal
hot drink
transfer (45 min. one way)