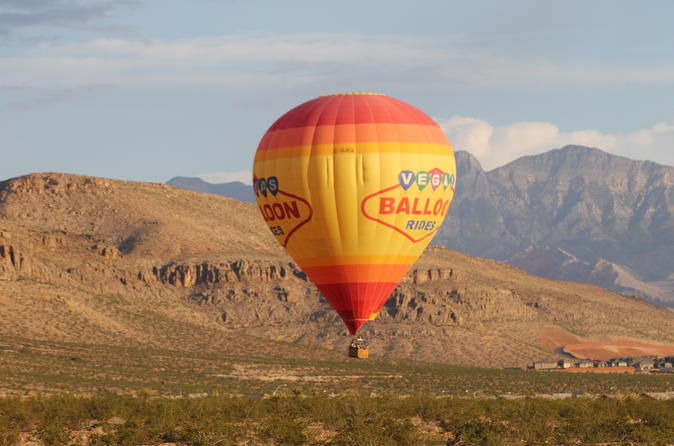 This scenic hot air balloon ride is a romantic way to fly over Las Vegas.
SPECIAL OFFER  Save $123.51 USD or 42% off the normal price.
After you climb aboard and take off, your balloon captain takes you over Las Vegas neighborhoods and you'll see gorgeous views of Red Rock Canyon. Then it's off to wherever the wind takes you for approximately 1-hour before landing to enjoy a Champagne toast and light snacks.
From December to February, see Las Vegas' skies change color with a sunset departure where you'll also catch views of the famous Las Vegas Strip being lit up!
As you float in the sky, enjoy the feeling of peace and tranquility as you experience unobstructed 360-degree views of Las Vegas and the gorgeous surrounding landscape.
Your balloon flight begins in the southwest valley with scenic views of Las Vegas' residential areas, the renowned Las Vegas Strip to the east and the majestic Red Rock Mountains and Red Rock Canyon to the west. As you drift peacefully in the aerial platform, the euphoria is beyond imagination and you develop an appreciation for 'Walking with the Winds'!
Your Las Vegas balloon ride is sure to be the highlight of your Vegas vacation!
---
Posted 9-20-18