Experience and get amazed by this Private Taj Mahal and Ranthambore National Park four-day tiger tour starting and ending in New Delhi.
On this tour you visit the most popular and amazing monument around the globe named the Taj Mahal in Agra and other major monuments as well. Later you will drive to Ranthambore to take a Wildlife Safari and by visit other major monuments. Plus, you will see some of India's prized tigers.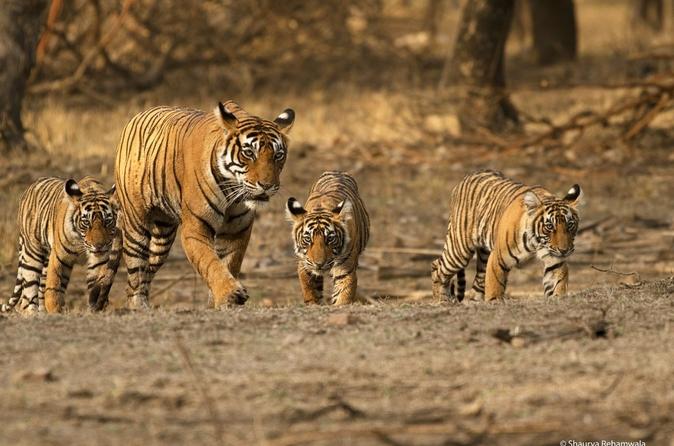 Day 1: New Delhi - Agra
The trip starts with a pick-up from the airport, railway station, hotel or another desired location in Delhi. You then will be taken to Agra, the city of the Taj Mahal via a 3-hour drive on the expressway.
Upon arrival to Agra, you meet your tour guide and check in to your hotel. After you are refreshed, the tour proceeds to the magnificent monument Taj Mahal. This magnificent monument was commissioned in 1632 by the Mughal emperor, Shah Jahan, to house the tomb of his favorite wife, Mumtaz Mahal.
After visiting the Taj Mahal, the tour will explore the Agra Fort, yet another UNESCO World Heritage site. Agra was the main residence of the emperors of the Mughal dynasty until 1638, when the capital was shifted from Agra to Delhi.
At the end of the tour, you will visit The Tomb of I'timād-ud-Daulah; a Mughal mausoleum often described as a "jewel box," and sometimes called the Baby Tāj.  This Tomb is often regarded as a draft model for the Tāj Mahal.
Then it is back to the hotel for an overnight stay in Agra.
Day 02: Agra - Ranthambore
After breakfast, you check out of the hotel and drive to Ranthambore. On arrival, you will check into the hotel. After a bit of refreshment, the tour visits Ranthambore Fort. Here you are free to enjoy the evening at your leisure followed by an overnight stay in Ranthambore.
.
Day 03: Ranthambore
This is an exciting day because we will drive into Ranthambore National Park for Wildlife Viewing to see the tigers. Ranthambore National Park, situated in Sawai Madhopur, is one of the biggest national parks in Rajasthan, northern India. The park covers an area of 392 km², and is one of India's Project Tiger reserves. Ranthambore National Park is known for large tiger population and is one of the best places in India to see these majestic predators in the forest. Other major wild animals include leopard, nilgai, dhole, wild boar, sambar, hyena, sloth bear and chital.
We then overnight stay in Ranthambore at our hotel.
Day 04: Ranthambore - Sawai Madhopur - Delhi
Again we take an early morning game drive into Ranthambore National Park for more photos. After breakfast at the resort we end the day with transfers to Delhi Airport, your hotel or other desired location in New Delhi.